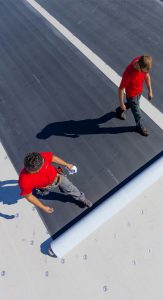 Firestone FullForce EPDM is the only EPDM membrane to feature a factory-applied adhesive across its entire surface. Without the need for seam tape, adhesives or waiting, it installs 4.6x faster than standard EPDM membrane* including seams. When you Go FullForce, your roofer can lay more roof in a day and that saves you money! 
The installation of FullForce EPDM commercial roofing membrane is quick and safe making it a great choice for fully occupied buildings or buildings where prolonged construction can be extremely disruptive to the occupants. This roof system has no volatile organic compounds (VOCs) or open flame application method. 
Commercial roofing projects with Firestone FullForce EPDM can qualify for 5, 10 15 and even 20 year warranties based on installation method and system components. 
What type of commercial building does this roof work best on
Warehouse and industrial buildings 

Commercial retail units (CRU)  

Restaurants and Gas Stations

Malls and grocery stores

Houses with a low slope of flat roof style 
FEATURES AND BENEFITS
OUTSTANDING ADHESIVE STRENGTH 
Firestone's Secure Bond™ Technology ensures exceptionally strong adhesion coverage across the entire membrane- from seam to seam.
FASTER INSTALLATION. EVEN ON DETAIL WORK
Relieves the need for tape and adhesive flash-off time, making approved details significantly quicker to install. 
SUPERIOR COLD-WEATHER PERFORMANCE
Creates a strong bond even in cold temperatures so we can install in a wide range or weather conditions 
ZERO VOCS AND ZERO ODOR
With zero VOC's FullForce is great for building occupants and the environment.
EXCEPTIONAL WIND UPLIFT RESISTANCE
Engineered to withstand well over 180 pounds per square foot in wind uplift pressure, achieving an FM-780 certification.
Want to learn more about The FullForce EPDM Roofing System Call us today for a consultation on your commercial roof replacement – 780-758-ROOF (7663)